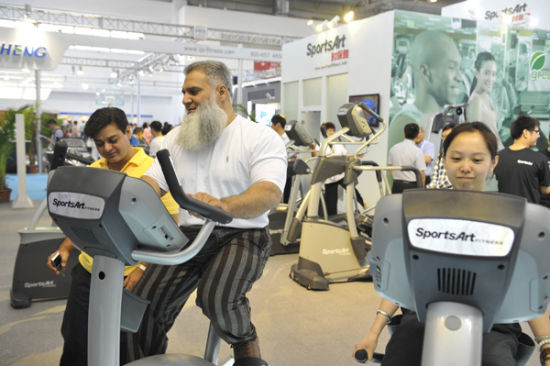 Exhibition introduction
It is a large-scale sports, fitness, and health industry exhibition in Japan.
Japan Sporting Goods Exhibition SPORTEC is a large-scale, professional and effective professional exhibition in the sports industry and fitness industry. The three-day exhibition process includes exhibitions, conferences, technology forums and professional discussion activities between exhibitors.
Professionalism: The last Tokyo Outdoor and Sporting Goods Exhibition SPORTEC was grandly opened at the Tokyo Exhibition Center in Japan in 2018. The exhibition gathers global brands of outdoor sports equipment and sports and fitness, covering outdoor facilities/equipment equipment (FIBO EXPERT) Industry experts in sports nutrition supplements (FIBOPOWER) and sports accessories (FIBO PASSION) have gathered a total of 46,517 professional buyers.
Strong attraction: The exhibition also specially invited sports importers, wholesalers, large supermarkets, sports chain stores and sports goods brand holders who are suitable for counterparts to visit and negotiate trade. According to the statistics of Yingtuo Exhibition, the scope of this 2019 Japan Sporting Goods Exhibition is targeted, and the range of exhibits is wide. It covers trade fairs and business development, as well as sports related sports equipment and industry equipment. More than 300 exhibitors from Japan provide products. Useful in major sporting events and has become a hot trend and bestseller in recent years.
Great market potential: Japan's Tokyo will host the 32nd Olympic Games in 2020, which will drive the rapid growth of the Japanese economy. Expanding the market share of the sports industry is one of Japan's national strategies, and will expand the market share of the sports industry from 5.5 trillion yen in 2015 to 15 trillion yen in 2025. After the concentrated investment in the sports industry in 2017, the market will be further expanded and SPORTEC is a good time to expand the sports market!
Market analysis
Japan is located in the eastern part of the Eurasian continent and in the northwestern Pacific. The territory consists of four large islands of Hokkaido, Honshu, Shikoku, and Kyushu, and more than 7,200 small islands. It is also known as the "Country of Thousand Islands". Japan is a highly developed capitalist country with scarce resources and extreme dependence on imports. Developed manufacturing is the mainstay of the national economy. Research, aerospace, manufacturing, and education are among the highest in the world. In 2017, the Japanese economy continued to recover, coupled with the downward pressure on the world economic situation, Japan's domestic demand and external demand situation are tending to improve. The unemployment rate has continued to decline, the employment situation is good, the domestic economy will stabilize, and Sino-Japanese economic relations have shown signs of recovery. Sino-Japanese economic and trade cooperation is also showing an upward trend. According to Japanese customs statistics, from January to October 2017, the import and export volume of bilateral goods between Japan and China was US$240.53 billion. Among them, Japan exported 107.28 billion US dollars to China, accounting for 18.7% of Japan's total exports; Japan imported 133.25 billion US dollars from China, accounting for 24.3% of Japan's total imports. Japan's total population is 130 million, and the number of permanent residents in the Tokyo metropolitan area has reached more than 30 million, more than a quarter. According to the SHOWGUIDE exhibition navigation survey, 90% of the sporting goods on the Japanese market are made in China, and China Sporting Goods Exhibition is in The Japanese market is very popular, and Tokyo, Japan will host the 32nd Olympic Games in 2020, which will drive the rapid growth of Japan's economy. Japan's sporting goods industry will also usher in rapid development. Participating in the Japan Sporting Goods Show is opening up Japan. An excellent opportunity for the market.
exhibition criteria
1, ball sports: table tennis equipment, foot basket equipment, billiards, billiards; school sports equipment, boxing, Sanda, Taekwondo equipment, tennis equipment; badminton equipment; sports protective gear, care products; net feather equipment. Other balls.
2, all kinds of sportswear, casual fashion apparel, swimwear, casual fashion shoes, hats, gloves, fishing gear and so on.
3, outdoor sports and leisure products: camping, mountaineering, roller skating, snow sports equipment and sports protective gear, glasses, gliding equipment, racing, sailing, windsurfing, rowing, kayaking, diving equipment, swimming equipment and related product.
4, fitness equipment and accessories: commercial fitness equipment, home fitness equipment, fitness equipment accessories; outdoor fitness equipment: fitness roads, rides; massage health products, massage equipment, health supplies.
5. Sports facilities and facilities of the stadium: plastic venues, grass paving and equipment, recreational facilities (including swimming equipment), playground facilities, stadium lighting and sound, seats, sports flooring, electronic display equipment, and supporting facilities.
6. Sports research and rehabilitation medical equipment: muscle strength test equipment, muscle strength stimulation equipment, kinematics analysis test system, sports medical rehabilitation equipment, psychological test training equipment, physical health test analysis and measurement instruments.