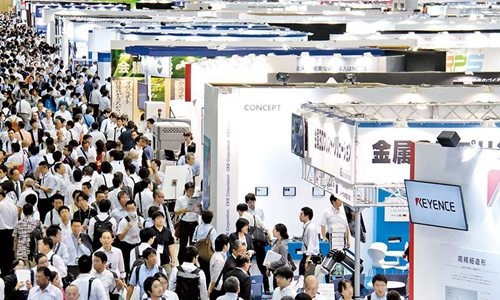 Exhibition Introduction
Large scale international professional in Asia
Tokyo International Machinery Elements and Technology Exhibition, Japan is an important professional exhibition on mechanical parts, materials, and assembly technology in Japan. The number of exhibitors continues to grow and the professional exhibitions are endless.
Professional: Japan Tokyo Machinery Elements and Technology Exhibition is Asia's leading industrial subcontracting and transmission technology trade exhibition. It has 23 years of history and is a platform for exhibitors to explore the Japanese market.
Attractive: The 2019 exhibition attracted a total of 1,271 exhibitors and 66,049 visitors. The number of exhibitors and visitors is growing steadily each year.
High quality of visitors: The exhibition attracts a large number of large international companies to visit the exhibition every year, including Japan's local FANUC, IHI, Hitachi Group, Kawasaki Heavy Industries, Misimi, Toshiba Group, China's Haier Group, Lenovo Group, Shanghai GM , Midea Group, Shenyang Machine Tool Group, TCL, Xiaomi, and other countries such as Ericsson, Continental, General Electric, Caterpillar, Boeing, Apple and other internationally renowned companies.
exhibition criteria
1. Transmission and automation: bearings, transmission shafts, gearboxes, reducers, belts, chains, motors, motors, motor drives, controllers, hydraulic technology, pneumatic technology, sealing technology, test and measurement instruments, sensors, etc.
2. Mechanical materials and machining: stainless steel, titanium, inconel processing, cutting, stamping, forging, casting, die-casting and other processing technologies; pipes, fittings, joints, valves; spring forming machines, various springs, fine and ultra-precision Cutting, ultra-precision machining, ultra-precision laser machining, lubricants, anti-wear layers, anti-friction, anti-wear materials, washing machines, dryers, recycling machines, cleaning outsourcing services
3. Metalworking, machine tools and tools exhibition: cutting of large and small parts, large parts stamping, large sheet metal processing, welding process, adhesives, cutting processing, cutting tools, hard alloy tools, tools and fixtures, spindles, mold abrasives , Timely surface treatment and modification, timely sandblasting, roller polishing, etc.
4. Fastener and fixing technology exhibition: bolts, nuts, washers, rivets, hardware accessories, hinges, etc.
Market analysis
According to Japanese customs statistics, from January to June 2019, the value of imports and exports of Japanese goods was US $ 703.04 billion, a decrease of 4.1% over the same period of the previous year (the same below). Among them, exports were US $ 347.42 billion, down 6.0%; imports were US $ 355.62 billion, down 2.3%. The trade deficit was 8.19 billion US dollars, down 244.0%.
From January to June, the bilateral import and export volume of goods between Japan and China was US $ 146.41 billion, a decrease of 4.8%. Among them, Japan 's exports to China were 63.87 billion US dollars, down 9.3%, accounting for 18.4% of Japan 's total exports, down 0.7 percentage points; Japan 's imports from China were 82.54 billion US dollars, down 1.0%, accounting for 23.2% of Japan 's total imports, up 0.3 percentage point. Japan's trade deficit with China was 18.67 billion US dollars, an increase of 44.4%.
As of June, China is Japan's second largest exporter and importer.