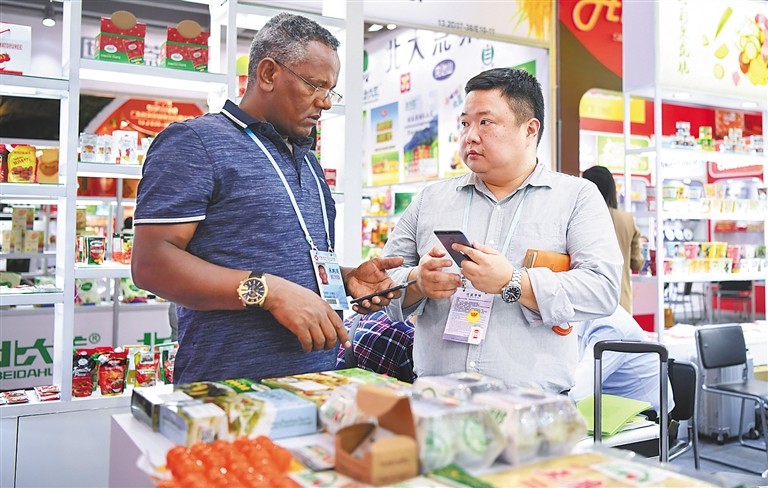 The 126th Canton Fair Phase III was opened at the Pazhou Complex in Guangzhou on the 31st. It mainly exhibited textiles and clothing, shoes, office bags and leisure products, medicine and medical care, and food products. The reporter saw on the scene that a group of Chinese old brands participated in the exhibition. While adhering to the traditional quality, they also strived to innovate and develop and actively explore overseas markets.
On October 31, the third phase of the 126th China Import and Export Fair opened in Guangzhou, mainly exhibiting textiles and clothing, shoes, office bags and leisure products, medicine and medical care, and food products. China News Agency reporter Ji Dong photo
At the booth of Zhejiang Tower Import and Export Company, there are not only the traditional tower brand Shaoxing Huadiao wine, "Lichun" yellow wine, but also the newly developed "Ben" series of yellow wine, which attracts a lot of overseas purchases. Business negotiations. The company's general manager, Shen Xingyu, said that the brand Shaoxing rice wine is a long-established Chinese brand. While consolidating the advantages of traditional products, the company has tried hard to break through in recent years, and developed new products of health and wellness concepts, and further improved the taste of the wine; Consumer services are also made more sophisticated, such as allergens on the product label.
Shen Xingqi said that the company's exports last year exceeded 15 million US dollars, and the export markets include Europe, North America and Hong Kong. Under the current severe situation in the international market, it is expected that the export volume will remain stable year-on-year.
"Rongchangxiang" is a suit brand of Ningbo with a history of 100 years. The brand has participated in the Canton Fair for many years and has received a large number of foreign trade orders. "Currently, labor costs and raw material costs continue to rise, and Chinese apparel companies can no longer take the old road of winning prices." Zhou Changle, manager of international trade department of Ningbo Rongchangxiang Garments Co., Ltd. said that in the face of cost pressure, the company adheres to the spirit of artisans and further Deeply cultivating private custom, high-end custom suits, "Many consumers in Europe and America are pursuing quality life, and there is a great demand for high-end suits, which brings higher profits."
At the Canton Fair, Tianjin Food Import and Export Co., Ltd. brought a variety of products such as wine, canned food, vinegar and winter vegetables. Liu Xiaopeng, the company's deputy general manager, said that because the company has many old Chinese brands such as "Great Wall" and "Golden Star", and with diversified product types and diversified market layout, it has stronger risk resistance in the international market.
"Innovative development can bring market growth." Liu Xiaopeng believes that if China's old brands want to gain a bigger share in overseas markets, they must seek new development paths, including strengthening brand marketing and market channel expansion, and getting more. Orders, so that the old name is rejuvenated.