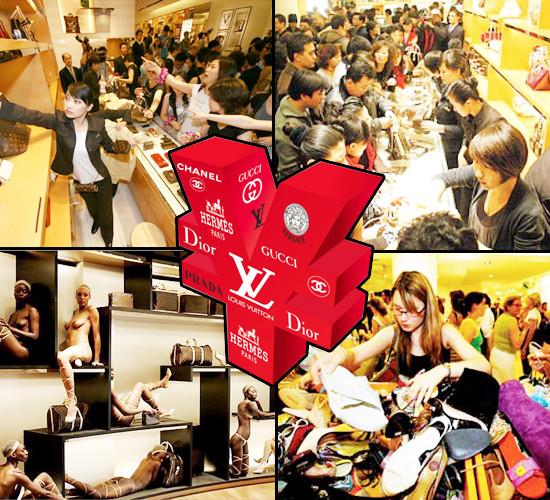 According to analysts, Chinese shoppers spend less on luxury goods in the US this year because many people stay at home.
Analysts say staying at home may be a trend that involves global luxury brands such as Louis Vuitton, Burberry, Gucci, Jemina, Dior and Tiffany as they are used to Chinese customers spending a lot of their goods outside China. - Last year there were $90 billion.
In November last year, high-end American jeweler and specialty retailer Tiffany & Co said that the company's comparable sales only increased by 2% in the most recent quarter, and blamed the Chinese tourists' low spending in major US stores, including its flagship store in New York. .
Tiffany executives said that most of their Chinese customers - about two-thirds - are shopping overseas.
Bain&Co Consulting also pointed out in a report in November that the growth of luxury goods sales in China is also increasing. China's purchase of luxury goods accounted for 33% of global luxury goods sales in 2018, up from 32% in 2017.
But between 2015 and 2018, China's purchases grew twice as much as overseas spending, and the proportion of luxury goods bought in China in 2018 rose from 8% in 2017 to 9%.
According to Bloomberg News, global luxury goods stocks fell 11% in October, and the market value decreased by 150 billion US dollars, which is the worst result in a decade. Bloomberg said this is because traders worry that Chinese shoppers are tired of spending on overseas luxury goods.
According to the German Institute of Outbound Tourism in Germany, the number of Chinese tourists visiting the United States in July, August and September was 880,000, a decrease of 20% from 2017.
According to the National Tourism Administration, at least 3 million Chinese visit the United States each year and spend $30 billion in retail, accommodation and travel in 2016.
"The Trump administration makes it harder for Chinese tourists to get a visa," Ben Cavender of China Market Research Group told China Daily.
"When choosing where to shop, consumers want to go where they are welcome and easy. As they become more difficult to enter the US, they will only choose other locations."
David Becker, chief executive of Attract China, a New York-based travel consultancy, said: "Japan is the most popular destination for independent (non-tourist) tourists, with 14.1% of outbound tourists visiting cities such as Tokyo and Osaka."
Becker added: "There are some anecdotal stories that Chinese business groups have higher visa refusal rates in planning meetings and conferences in the United States (this year)."
Cavender also pointed out that Sino-US trade disputes have affected the visits and consumption of Chinese tourists. "We began to see the number of Chinese citizens enrolled in American universities began to decline.
"Because it is getting harder to get a study visa, Chinese students are choosing other markets, such as studying in the UK or Australia," he said. "This has a big impact because Chinese luxury buyers have a lot of visits to the United States where parents or family visit students and then shop, or students shop for themselves."
The weakening of the renminbi has also made their cash more cautious, because the cost of buying luxury goods, handbags and jewelry in the United States may be higher than in mainland China.
"The Chinese are very sensitive to the exchange rate," Becker said.
Many high-end commodity companies such as Chanel, Prada and Gucci have physical stores in China, allowing shoppers to sometimes bargain without flying to the US and Europe.
Becker said that Chinese tourists have also changed the way they travel abroad, and more to choose to visit alone.
"The transition from group travel to independent (non-group) travel means fewer travel buses, and reaching China requires more retailers to work hard," he said.
"In the past, shopping was the number one reason for travel. Ctrip reported that only 12% of travellers designated shopping as the main motivation for going abroad. Chinese people are increasingly looking for unique experiences to their destinations."
Armando Branchini, vice president of the Italian Luxury Trade Association, said he is preparing for the "uncertainty" of Chinese shoppers in 2019.
But according to Bain, it is expected that by 2025, the Chinese will account for half of global luxury sales. Bain said that in the next six years alone, they will spend $ 412 billion on luxury goods, accounting for 46% of global sales.
"With the increased availability of international goods in China, the reduction in luxury import taxes, and the simple and reliable way to buy goods through trusted cross-border e-commerce companies like Border X Labs, the Chinese don't have to invest too much time at their destinations ( Shopping abroad," Becker said.