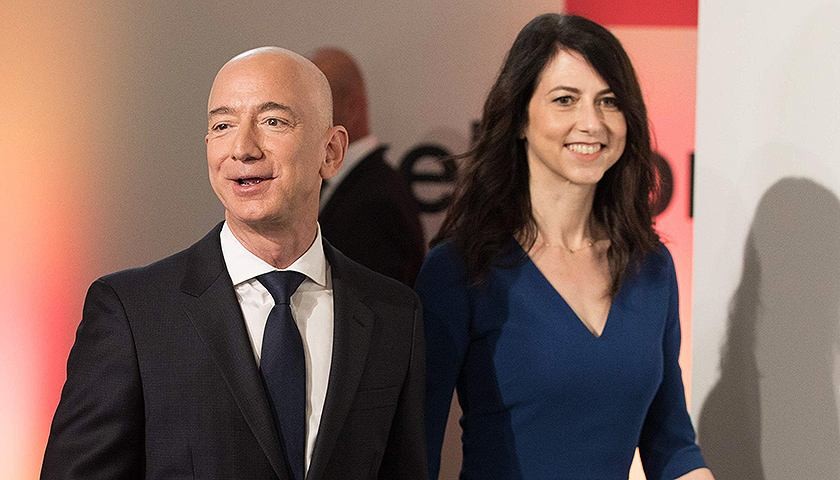 On July 2nd, the media broke the news that the divorce agreement between Amazon founder and world's richest man Bezos will take effect this week. This is ridiculed by netizens, which is the most expensive divorce in history. Because the two people have jointly created huge wealth, if divorced, property division is definitely the biggest problem. Today, the world's richest Amazon founder Bezos divorce case has finally come to an end. According to related media reports, her ex-wife McKinsey won Amazon's stock worth $38 billion, the largest division of property in history.
On April 4th, US local time, Amazon founder and CEO Jeff Bezos and his wife McKinsey said on social media that their marriage has not continued, and they have finalized the details of the divorce-related issues. . Then their divorce incident triggered a lot of netizens' attention and kept occupying the hot search list.
Because the two people did not sign a divorce agreement before marriage, and Amazon is also created by two people after marriage, the property under the name should be the joint property of the husband and wife. As long as they are divorced, according to the laws of Washington State, the property is half-divided. Originally, according to the law, his ex-wife McKinsey should receive $66 billion, perhaps to protect the title of Bezos's richest man in the world, or for the development of Amazon, she generously gave up $30 billion.
According to the divorce agreement, after the divorce, McKinsey will own 25% of Amazon shares, the value of this asset is close to 36 billion US dollars according to the transaction price on Thursday. Bezos will retain a share of 75% of Amazon shares, including all voting shares of Amazon. But what is unexpected is that, by dividing so many stocks, Bezos is still the richest man in the world, and McKinsey is ranked 22nd on the rich list, becoming the third richest woman in the world.
They met in six months and got married. They married for twenty-five years. They experienced entrepreneurship, loss, and trough. They went from ordinary people to unattainable positions. Their husband and wife have given birth to four children. They have been very loving for 25 years of marriage. It may be that they really have no feelings. They chose peace to break up. When the two were still at the stage of the divorce statement, Bezos said on the social network: Even if we knew that we would divorce after 25 years, we would still choose the first one.