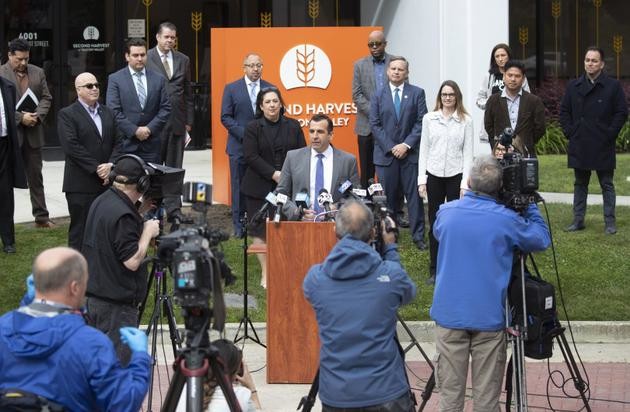 The federal government's money has been delayed, and Silicon Valley has decided to raise money to subsidize the people. Santa Clara County and the City of San Jose today announced the creation of a $ 11 million bailout fund to provide subsistence allowances to local people who have been financially troubled by the new crown epidemic.
The new crown epidemic has already occurred in the United States on a large scale. According to data from Johns Hopkins University, as of this writing, the number of confirmed diagnoses in the United States has exceeded 44,000, while the number of confirmed diagnoses in California is close to 2,200. The total number of Silicon Valley counties exceeds 600. Conventional Silicon Valley includes Santa Clara County, San Mateo County, and San Francisco. The city of San Jose belongs to the county of Santa Clara and is the largest city in Silicon Valley.
Under severe epidemic pressure, Silicon Valley has announced asylum at home last week, becoming the first region in the United States to take shutdown measures. Except for pharmacies, supermarkets, and gas stations, other stores must be closed, and restaurants can only take out food. Residents must stay at home except to buy medicines and vegetables to train their dogs. Although this is the most effective way to prevent and control the epidemic, it will inevitably bring a heavy blow to the local economy.
There is no doubt that the first wave of unemployment will emerge in the retail, catering, hotel, convention and exhibition industries. California Governor Newson revealed last week that the number of California unemployment insurance applicants has doubled, and that 280,000 people are expected to be unemployed in the future. The unemployment rate will soar from the current 3.1% to 6.3% by the end of the year. No income, but life has to continue, and the bill for renting water, electricity, and meals has to be paid.
The U.S. federal government has announced that it will issue a total of $ 2,000 in living allowances to each U.S. taxpayer in two installments. The exact amount and timing of the payment are yet to be worked out. But Democrats and Republicans have been struggling over specific economic stimulus package details, causing the current rescue bill to stall.
硅 After Silicon Valley announced a home asylum order last week, San Jose Mayor Ricardo began frequent visits to Silicon Valley technology giants, hoping that they would reach out to help the local people, especially low-income families, who are struggling with unemployment. With his efforts, a number of technology giants and venture capital funds have committed a total of USD 7.25 million, including Cisco, Broadcom, Facebook, Western Digital, Hewlett-Packard Enterprise, Zoom, Adobe, and Silver Lake. Clara County and the City of San Jose will each raise $ 2 million.
"We need to help the most vulnerable people, and the federal government is negotiating their rescue plans, but we should also lend a helping hand to protect these people from suffering," Cisco CEO Chuck Robbins said at the online media conference. ". Cisco provided $ 2 million for the bailout fund. In addition, Cisco also announced that it has donated US $ 225 million worldwide for relief of new crown pneumonia. Western Digital donated $ 1.5 million, Adobe contributed $ 1 million, and Zoom and Broadcom each contributed $ 500,000.
Silicon Valley is the richest region in the United States, with an average annual household income of $ 103,900. The condition for applying for this subsidy is that the family's annual income is less than 80,000 US dollars, and they lose their jobs because of the epidemic. Each family can get up to 4,000 US dollars per month. However, before the outbreak, 140,000 families in Santa Clara County lived below the poverty line. To ensure that poor families do not lose their homes because of unemployment, the San Jose government has ordered homeowners not to expel tenants until April 17.
In addition to providing cash assistance, San Jose Mayor Ricardo and other mayors last week co-organized a Silicon Valley Strong initiative, calling on people from all walks of life to donate money to help people who have encountered difficulties in the epidemic As well as the elderly, the disabled and children. Among them, Facebook announced that it has donated $ 650,000 worth of food to more than a dozen senior centers and schools in Silicon Valley.